Cat Behaviorist™ & Doctor – Oxford-trained – Zoom Appointments
The Clinic Specializes in the Treatment and Research of Cat Behavior Issues. Award-winning Cat Behaviorist™ and Veterinarian Team in Practice for Over 25 Years Helping Thousands of Cat Owners Solve Their Cat's Aggression, Urination, Defecation, and Vocalization Behavior Issues in Over 30 Countries.
Mieshelle wrote the cat behavior science required curriculum text book to certify other online cat behaviorists and counselors you see today. (Photo): 2021 Zoom Video Consultation from Chicago, Illinois to Beijing, China. Award-winning Cat Behavior Science Author Mieshelle has helped over 1 billion cat owners who have watched her new cat behavior show, My Cat From Hell (2021). She is the only cat behaviorist in China!
A pioneer of the cat behaviorist™ specialty, Mieshelle Nagelschneider studied animal behavior at Oxford University, and The University of Edinburgh – The Royal School of Veterinary Studies.  Her animal behavior study at Harvard University has enabled her to help thousands of cat owners think more scientifically about their cat's behavior. She is also the cat nutrition research and development expert for the largest pet food company and manufacturer in the world. The first "cat behaviorist™" practice in the United States, the clinic offers in-home, phone, or video cat behavior consultations.  The clinic has helped thousands of cat owners in over 30 countries for over two decades. Mieshelle is the founder of the clinic, certified cat behaviorist™ and a New York Times acclaimed feline behavior science author (Random House Publishing). We also have two veterinarians (one is Mieshelle's partner) that perform in-person or vet-to-vet behavior consultations.
Recipient of the "Gold Purr Award" and the "2020 Business Award for Exemplary Businesses and People in the Field of Animal Behavior".
Licensed, Experienced Veterinarians and Cat Behaviorist™, We Have More Cat Owners Purring Than Anyone (Read Hundreds of Testimonials). Join our Long List of Cat Owners Who No Longer Have Cat Behavior Issues in Over 30 Countries.
Arm & Hammer Spokesperson and Cat Expert Mieshelle Sharing the Latest Scientific Research on Litter and Litter Box Strategies on the Hallmark Channel with Susan Lucci.
She is also a feline behavior science writer/editor cat expert on the 37 species of tigers and wildcats including the domestic cat and wildcat hybrids for National Geographic documentaries and published works in addition to her own New York Times acclaimed feline science book published by Random House Publishing in 4 languages. You can watch Mieshelle with Howie Mandel on Animals Doing Things on Nat Geo Wild.
Pioneer of the "Cat Behaviorist™" Specialty and Founder of The Cat Behavior Clinic, Oxford-trained Cat Behaviorist Mieshelle wrote the first scholarly-cited cat behavior book for cat owners (Random House Publishing).
Mieshelle is a New York Times Acclaimed Award-winning Cat Behavior Science Author (Random House w/co-writer Cameron Powell) with the First Scholarly-cited Cat Behavior Book for Cat Owners
The Cat Behavior Clinic Professional Statement
Innovator of the "Cat Behaviorist™" specialty, the clinic has always felt that it's important to offer support to cats and their owners, which has led to our behavior expert's career as a behaviorist for cats. It allows them to help cats and their owners every day. In providing care, Mieshelle says her primary goal is to "partner with cat owners so that they feel empowered to manage their cat's behavioral health effectively." Cats are still the most misunderstood companion animal putting them at the greatest risk. Even with the increase in cat popularity making them the most common household pet, they are considerably underserved when it comes to behavior help. Mieshelle's partner, who is a veterinarian, says there is definitely a large void in general veterinary medicine when it comes to behavior care for both cats and dogs.
To Solve Cat Behavior Issues the Clinic Goes Beyond the Obvious Feline Behavior Strategies and Incorporates the Latest Scientific Research
New York Times Acclaimed Feline Science Author Mieshelle In The Philippines Elevating the Status of the Cat (2012)
Mars Whiska's International Cat Expert Mieshelle on 10-Day Cat Media Tour in Australia to Help Increase the Popularity of the Cat and Dispel Common Cat Myths.
The clinic has changed thousands of cat's lives worldwide by not only improving their behavior, but also by elevating the status of the most misunderstood companion animal, the cat. Mieshelle has been the guest behavior lecturer, key note speaker, and cat advocate Best Friends Animal Society, International Humane Society and SPCA behavior conventions educating hundreds of veterinarians, shelter workers, and cat owners on behavior issues in cats to improve their lives and those of their owners, too. In addition to Mieshelle's remote phone or video consultations, veterinarian Dr. Jim Shultz has been a private practice and mobile service veterinarian for small animals and conducts cat behavior consultations locally or consulting vet-to vet service remotely by video/phone.
"Literally our problem seems to be solved "overnight" and we are very optimistic that this will stay: we even see her using the cat litter box; she buries her urine, and seems to be very comfortable. This is unbelievable, Mieshelle. We are very thankful for your precious help and knowledge." – Best regards, Andrea & David M. Chicago, Illinois
New York Times Acclaimed Feline Behavior Science Author, Cat Welfarist, Spokesperson and International Cat Advocate
Mieshelle as SPCA Keynote Speaker International Cat Conference in Toronto, Canada (educating veterinarians on the "perplexing" pooping outside of the box cat behavior issue).
Mieshelle Nagelschneider has conducted several thousand cat behavior consultations since 1999 around the world (in over 30 countries) and is referred by, worked with, and trained veterinarians, cat shelters, and even wild-cat sanctuaries from England to North America to the Philippines. She has also performed much needed cat studies for Hammacher Schlemmer on advanced litter box technologies and perching and resting areas for cats as well as been a spokesperson and Cat Behavior Expert for National Geographic, Discovery Channel, Whiskas, Arm & Hammer and Comfort Zone nationally and international including media tours around the globe to improve the status of the companion animal at the greatest risk, the cat.
Award-winning, Random House Publishing, The Cat Whisperer. Acclaimed New York Times Feline Science Writer (with co-writer Cameron Powell).
"The reason people are so mesmerized by house cats is because they are truly miniature versions of lions, tigers, and leopards. In her book The Cat Whisperer, Mieshelle Nagelschneider explains the behavior of the house cat in an unprecedented and most accessible way, offering unique insight into the often misunderstood companion animal that is as wild as we have become civilized."—Jordan Carlton Schaul, Ph.D., contributing editor, National Geographic, and curator, Orange County Zoo
Mieshelle Visited the Capitol Lobbying for an Anti-declaw Law for Cats and Spoke with Hillary Clinton on the Importance of Welfare for Cats in 2015 (see also The Paw Project.org).
Cat Behaviorist™ Mieshelle has earned her reputation as a pillar in the cat behavior specialty. In addition to solving behavior issues around the world, she has also improved the status of the cat in countries like the UAE, the Philippines, Costa Rica, Canada, and Australia. In addition to being a New York Times acclaimed feline behavior science author (Random House) solving cat behavior issues for over two decades, Mieshelle founded The Cat Behavior Clinic in 1999 and has continued making creative and innovative advances in cat behavior including a several year study on the social well being of cats being housed together. Learn more about our outstanding 95% Clinic Success Rate.
Featured in the New York Times and Known as the Founder of the Cat Behavior Specialty (Inner Lives of Cats author Thomas McNamee)
Cat Whisperer Interview for Modern Cat Magazine (2010)
And among the clients who follow her advice, including her proprietary C.A.T. Plan™, her success rate is 95% or better and close to 100% for the most common cat behavior issues. Read our clients' success stories and see why the Clinic is a smart choice for stopping all behavior problems now and future ones from occurring (very important!). You can also read Mieshelle's charming story of how she became a lover and observer of animals, nearly 40 years ago, in her Life Among the Animals (excerpt from her cat behavior book — Random House Publishing with co-writer Cameron Powell). Her cat behavior science book is required curriculum coursework for a number of animal behavior certifying organizations.
Mieshelle can solve your cat's behavior issues with a behavior plan designed for your cat(s) that include the latest scientific research and advanced techniques (found only here) that have helped thousands of cats and their owners. Litter box elimination issues, urine marking, excessive meowing, inter-cat social and aggression issues, are her specialty. The veterinarian also conducts consultations locally for all behavior issues.
Cat Behaviorist™ Mieshelle is also known for solving cat behavior issues around the world that are deemed "unfixable". From Chicago, New York, Florida, Washington, Texas and all the way to Japan. She is also the first cat behaviorist™ in China where she hosts the first cat behavior show, My Cat From Hell, Discovery Channel China with 1 billion viewers.
Mieshelle was one of the first cat-only behavior specialist members of the Animal Behavior Society, International Association of Animal Behavior Consultants, and Cat Behavior Counselors. Her scholarly-cited cat behavior science book is required text for a number of certifying organization for budding cat behavior counselors. She has studied cat behavior for decades, and she continually keeps abreast of and takes part in observational studies on cats which has enabled her to provide behavior plans and techniques that have given proven results. See 350 solved case studies and client testimonials
One very crucial component in treating some cat behavior issues is ongoing help after the initial consultation. Because appropriate and sound behavior advice for a specific cat is not one-size-fits-all, continued correspondence with your behaviorist is possible at The Cat Behavior Clinic.
Mieshelle is a popular resource for many cat-only veterinary practices nationwide, many wild cat sanctuaries, and countless animal shelters needing expert advice on feline behavior, which she will often donate her time to. Mieshelle has worked professionally with thousands of domestic house cats, wild, and feral cats. She is referred by many vets nationwide for her remote behavioral consulting.
Formally educated in animal welfare, Mieshelle donates her time around the world advocating for cats and their welfare. Mieshelle visited the capital and recently testified along with The Paw Project team on the anti-declaw bill to end cat declawing. She spoke at great length to urge lawmakers to ban declawing. She is also an active supporter of the new anti-declaw film, The Paw Project, by veterinarian Jenny Conrad and has been a guest speaker at their lectures.
Featured in The New York Times and a best-seller on Amazon, Mieshelle's breakthrough science-based book on her C.A.T. Plan system for solving and even preventing all feline behavior problems, The Cat Whisperer (Random House Publishing with co-author Cameron Powell), is available online or in bookstores now!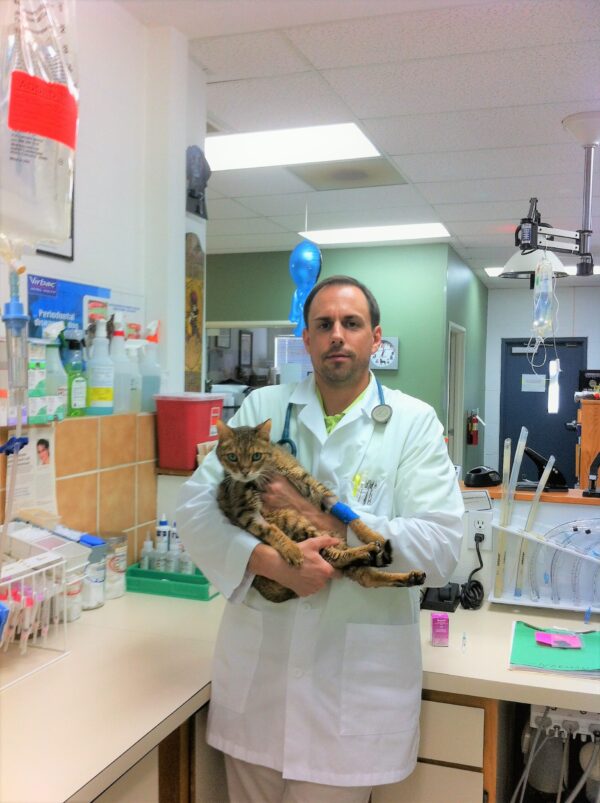 A Cat Patient with our Veterinarian Dr. Jim Shultz.
As an International Cat Behavior Expert for: Whiskas, Arm & Hammer Cat Litter, and Comfort Zone, and cat welfarist for the SPCA in Australia to cats in the Philippines at The International Cat Association as The Cat Whisperer™, she has saved thousands of cats' lives directly and indirectly through her lifetime of cat behavior work. Along with Best Friend's Animal Society and Stray Cat Alliance in L.A. as a welfarist for cats and as their guest speaker, The Cat Whisperer™, Mieshelle has educated cat owners on cat behavior issues.
World-renowned Oxford-trained Cat Behaviorist Mieshelle Nagelschneider, The Cat Whisperer™️
Schedule an Appointment