About Oxford-trained Cat Trainer and Certified Cat Behaviorist Mieshelle Nagelschneider
25 Years in Practice and Founder of The Cat Behavior Clinic: Mieshelle The Cat Whisperer™ Cat Trainer and Cat Behaviorist on National Geographic, the Today Show, the Hallmark Channel, and NBC Dateline.

Schedule a Cat Behavior Training Consultation Program
View 350  Solved Case Study Reviews and Testimonials for our Certified Cat Behaviorist, Mieshelle Nagelschneider and Veterinarian.  Founder and director of The Cat Behavior Clinic and acclaimed New York Times feline behavior science author, learn more about Mieshelle's animal behavior and animal welfare studies through Oxford University, University of Edinburgh – The Royal School of Veterinary Studies, upcoming at Oxford University, and read more about her experience at Harvard University that has enabled her to teach cat owners the science behind their cat's behavior.  She lectures to veterinarians internationally from Toronto to the Philippines and has been solving cat behavior issues in over 30 countries for over two decades.

What Sets Our Cat Training Apart From the Rest
In practice for over 25 years, the clinic is the first cats exclusively training consultancy practice in the United States.  Mieshelle is also the first "Cat Behaviorist" and coined the term paving the way for the cat behavior training specialty.  She has specialized certification as well as formal university animal behavior study that has enabled her to scientifically observe and analyze cat behavior from a behavioral cognitive, ethological, and feline evolutionary point of view. Her book is the first scholarly-cited cat behavior science book for cat owners and is text book curriculum for cat behavior certifying organizations.  Learn more on the Cat Behaviorist Clinic Homepage.

What's New with Mieshelle and National Geographic
Mieshelle is a long time cat behavior expert for National Geographic on the 37 species of wildcats and behaviorist for numerous cat documentaries, TV Shows, and published works.  You can watch her most recent National Geographic Show, Animals Doing Things with Howie Mandel.
Professional Statement from Our Cat Trainer Mieshelle Nagelschneider at The Cat Behavior Clinic
Effective cat training is straight forward, but cats have a very different evolutionary biology than dogs and external and internal factors affect them in unique ways than other species and this needs to be part of any training to change a cat's behavior.  Once I teach my clients how a cat's mind works, they're able to cure behavior problems in the cat who inspired them to schedule a remote phone or video consultation program with me and The Cat Behavior Clinic.  More importantly, a cat trainer can prevent future problems in that cat, other cats in the household, cats they may own many years later, and even cats not yet living in the home.  Behavior training plans should be based on scientific research behavior studies of felids, your cat's feline evolutionary biology, innate learning styles and memory, and current external and internal factors affecting your cat.   Our outstanding 95% clinic success rate.
"The reason people are so mesmerized by house cats is because they are truly miniature versions of lions, tigers, and leopards. In her book The Cat Whisperer, Mieshelle Nagelschneider explains the behavior of the house cat in an unprecedented and most accessible way, offering unique insight into the often misunderstood companion animal that is as wild as we have become civilized."—Jordan Carlton Schaul, Ph.D., contributing editor, National Geographic, and curator, Orange County Zoo

Mieshelle's International Media Tour for Arm & Hammer Litter Cat Behavior – Parent Magazine Live in Toronto, Canada.

Cat Training Saves Cats' Lives
I educate my clients to help themselves and their cats.  I know that every time I explain the science of cat behavior to a cat owner, I'm adding to the level of cat happiness in the world and saving a cat's life at the same time from being sent to a shelter, put outside or euthanized.

Change Your Life by Learning to Train Your Cat



If you have cat behavior problems, let me show you how to train cats to do what you'd rather have them do, and to stop doing what you don't like all while allowing your cat to be a cat (feline instincts included!).  I've trained veterinarians and shelter workers nationally and internationally traveling the globe from Australia to the Philippines working with Best Friends Animal Society, Animal Welfare League with Whiskas, Arm & Hammer, Comfort Zone, the Paw Project, and NKLA.
I've trained all kinds of animals, but effective cat training is easy for me, and I can convey this training to you as I have to thousands of cat lovers everywhere.  Effective strategies go beyond the obvious and is more involved that what you'll usually find on the internet.  Please know that cat training is not like dog training.  There is no intense hands-on approach with teaching your cat how to "behave".  Again, it involves a scientific approach relating to their feline evolutionary biology and how that causes them to relate and respond to the environment around them.  Cats have more of an innate wildness to them which also plays a role with some behavior issues owners might be tackling.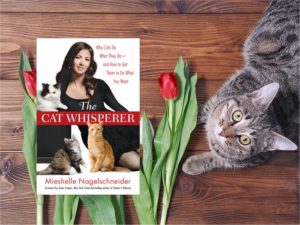 Think You've Tried Everything to Train Your Cat?  We're Pretty Sure You Haven't.
I also suggest that you read my cat behavior book published by Random House Publishing (with co-writer Cameron Powell), The Cat Whisperer.  This is the first feline science book that is scholarly-cited for cat owners.