Los Angeles Cat Behaviorist & Licensed Veterinarian
The Clinic Specializes in Treatment and Research of Cat Behavior Issues. Oxford and Harvard-trained and The First Cat-only Behavior Practice in California with More Cat Owners Purring Than Anyone
Two-time Academy Award-winning T.V. Show, "My Cat from Hell" Host Mieshelle Nagelschneider, with Over 1 Billion Viewers Internationally and the Most Watched Cat Behavior Show in the World
2023 Zoom Appointment Update: We are scheduling our doctor and cat behaviorist team through October 31st.  Through October 4th receive the study participation reduced fee for urination or defecation appointments. Become a part of Mieshelle's 2-time Academy Award-winning cat behavior show production on Discovery Plus Channel (the most watched cat behavior show in the world with over 1 billion viewers).
Unlike other "cat behaviorist" or "cat counselor" services, our veterinary behavioral services are covered by most pet health insurance plans.
Click Here to Read Over 350 Testimonials for Cat Aggression, Urination, Defecation, Urine Spray-marking, and Vocalization Issues
Have cat dietary questions? Mieshelle is the appointed cat nutrition research and development expert for the largest cat food company and manufacturer in the world. A Pioneer of the Cat Behaviorist Specialty, Mieshelle is also a New York Times Acclaimed Cat Behavior Science Author (Random House and National Geographic), and New Television Host of the Cat Behavior Show, My Cat From Hell, Celebrating 25 Years in Practice.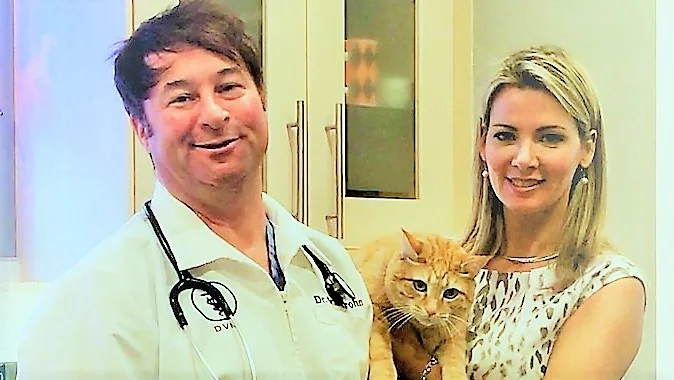 Los Angeles Certified Cat Behaviorist and Cat Behavior Science
Author Mieshelle Nagelschneider with Her Partner Who is Also a Veterinarian
Cat Behaviorist to the Stars with over 350 Testimonials, Her Cat Behavior Science Book is Required Curriculum to Certify Other Cat Behaviorists, Veterinarians, Trainers, and Cat Counselors You See Today.
Hundreds of Success Stories with Our California Cat Owners for Over Two Decades
Cat behavior issues like urination, defecation, aggression and other cat behavior issues are very solvable. Taking into consideration feline evolutionary biology and your cat's gene encoded behavior (instincts and fixed action patterns) is just one of several components that must be a part of a successful behavior plan that has lasting results. To achieve this, it's necessary to work with an experienced cat behaviorist, but most importantly, one with formal study in animal behavior that can apply the sciences of genetics, animal psychology, biology, physiology, learning and memory to effectively correct a cat's behavior.
"Thanks for all Your Help Mieshelle!" Charlize Theron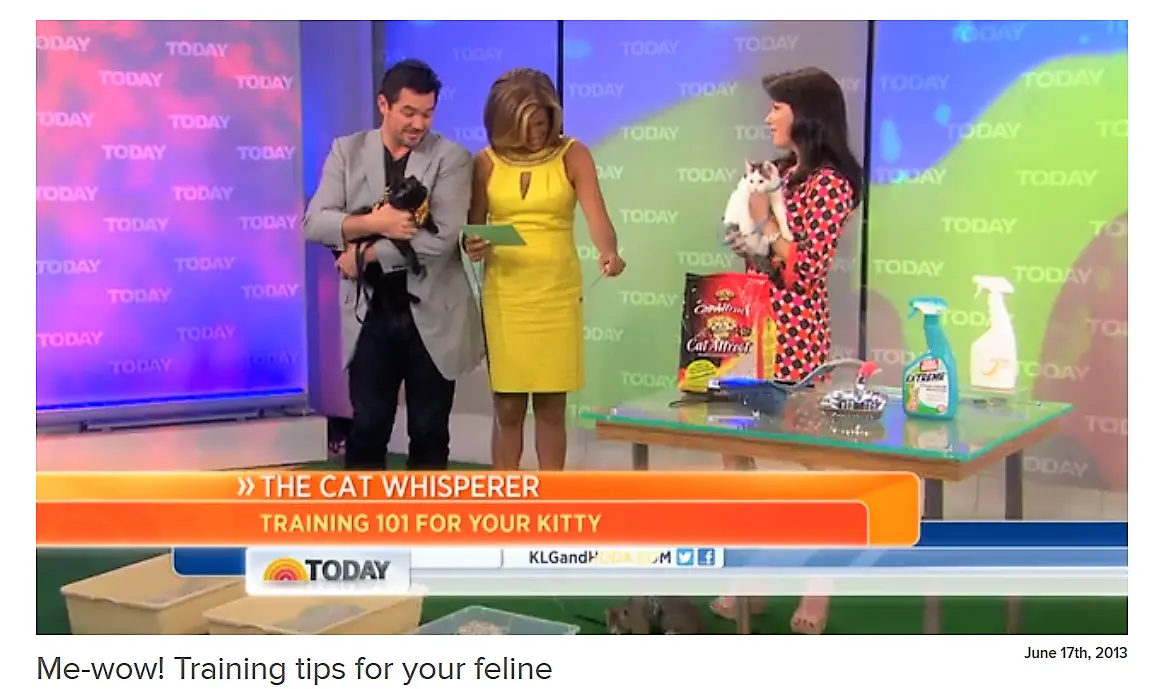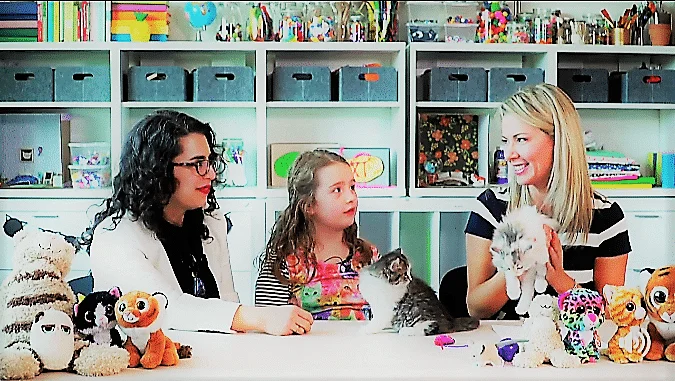 Harvard and Oxford-trained Cat Behaviorist Mieshelle on the Media Tour for Arm & Hammer Cat Litter as the International Cat Expert and Spokesperson for Arm & Hammer. " I 100% recommend Mieshelle!" Dr. Midori Higashi
Schedule a Zoom or Phone Appointment with California Cat Behaviorist and Learn the Importance of Gene-encoded Cat Behavior
Mieshelle studied animal behavior and animal welfare at Oxford University and the University of Edinburgh (Royal School of Veterinary Studies), and is the author of the New York Times acclaimed feline behavior science book published in 4 languages by Random House Publishing. She is also the cat nutrition research and development expert for the largest cat food company and manufacturer in the world.
Founder and director of the clinic, her in-depth scientific analysis of the behavior and evolutionary biology of the cat and her animal behavior study at Harvard University, has enabled her to help thousands of cat owners over two decades and in over 30 different countries, solve their cat's behavior issues. Our veterinarians perform vet-to-vet remote consults. Mieshelle performs consultations in-person in California or remotely by phone or video.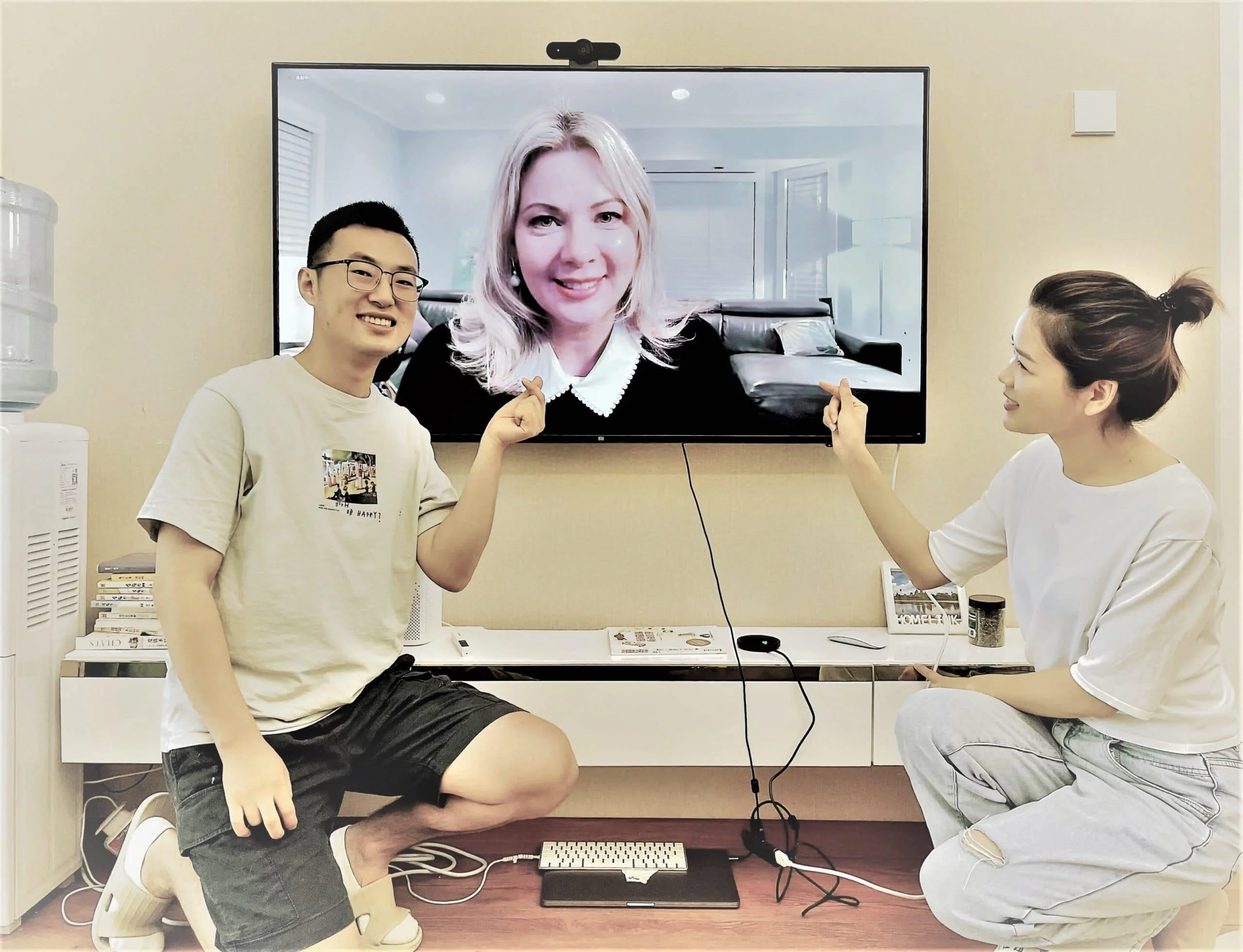 Mieshelle conducting a consultation from Los Angeles to Beijing, China via Zoom video 2021. Her new cat behavior show, My Cat From Hell, already has 1 billion viewers internationally.
Scientifically Solving Cat Behavior Issues from a Feline Behavior Evolutionary Point of View
Cat Behavior Science Author Mieshelle is published by Random House Publishing in 4 languages (award-winning and New York Times Acclaimed w/co-writer Cameron Powell).
37 Wildcat Species Expert for National Geographic
You can also watch Mieshelle on National Geographic's Animals Doing Things California filming with Howie Mandel as their cat expert and other cat behavior documentaries by Nat Geo Wild. As a cat behavior science author she is also the cat expert for many of National Geographic's published works on the 37 species of wildcats, tigers, and every breed of the domestic house cat. Originally from Los Angeles, Mieshelle is known for her global leadership in cat behavior education helping cat owners and veterinarians from the Philippines to Australia understand cat behavior from a feline biology and evolutionary point of view. Her passion and curiosity about cats along with her formal study in animal behavior, continues to put her on the forefront of cat behavior knowledge crossing the conventional boundaries of the cat behavior specialty.
Mieshelle is the recipient of the Golden Purr Award for her contribution to the science of cat behavior. Her award-winning first ever scholarly-cited cat behavior book (Random House Publishing) for cat owners is published in 4 languages and across 80 countries. Acclaimed by The New York Times, the book is recommended text for a number of animal behavior certifying organizations. Read more about Mieshelle international cat advocate work and lectures conducted around the world on our cat behaviorist home page.
What Our California Cat Owners Are Saying in Beverly Hills, Santa Monica, San Diego, and San Francisco.
California Cat Behavior Testimonial Update: "I'm already having much success with (behavior plan removed) and all of her stools have been in the box since (behavior plan removed). Should I send in a picture of a stool covered with litter? How should I handle getting a picture of her stool? I'll send a photo of her (behavior plan removed) and an update on her behavior to the link. Thanks so much for all of your help." Ann H. Costa Mesa, California
Please contact the clinic to schedule a phone or video (Zoom) behavior consultation. Please visit our home page to begin. Cat Behaviorist Mieshelle Nagelschneider goes beyond the obvious behavior strategies and facts during behavior consultation program. She has lectured at the international level from Australia to the Philippines at education conventions for veterinarians, the Humane Society/SPCA on all common, but sometimes very complex, feline behavior issues.
"We didn't know where to begin with our cat's behavior issues, and the vets never seemed to know what to do either. Our family is so glad we placed our complete trust in you and are forever grateful to have worked with you. Thank you for saving our cat, Putters! Steve R. Santa Monica, California – Phone Consultation
"Queen" of the Cat Behavior Specialty, National and International Cat Welfarist, Lecturer, Behaviorist, and Award-winning Cat Behavior Science Author
Media Tour with Mieshelle as the International Cat Behaviorist for Arm & Hammer in Toronto, Canada
Read more about Mieshelle's national and international media, animal welfare and spokesperson work on the clinic about page. Watch Mieshelle with Howie Mandel on National Geographic's Animals Doing Things and The Wild Side of Cats, the Today Show, Nat Geo Wild, Animal Planet, Hallmark Channel (and countless others) and her work with Best Friend's Animal Society, the SPCA, and in Los Angeles for the NKLA (No-kill Los Angeles).
Call the clinic today to learn more or to schedule your consultation at 503-267-8888.
About Cat Behaviorist Mieshelle Nagelschneider in the Los Angeles, California News
World-renowned Oxford-trained Cat Behaviorist Mieshelle Nagelschneider, The Cat Whisperer™️
Schedule an Appointment