Cat Urinating Outside the Litter Box
We Specialize in the Treatment and Scientific Research of Cat Urinary Behavior Issues
25 Years in Practice Conducting Several Thousand Urination Behavior Appointments in the United States and in Over 30 Countries with Harvard and Oxford-trained Experienced, Licensed Doctor & Certified Cat Behaviorist
View 250 Urination Testimonials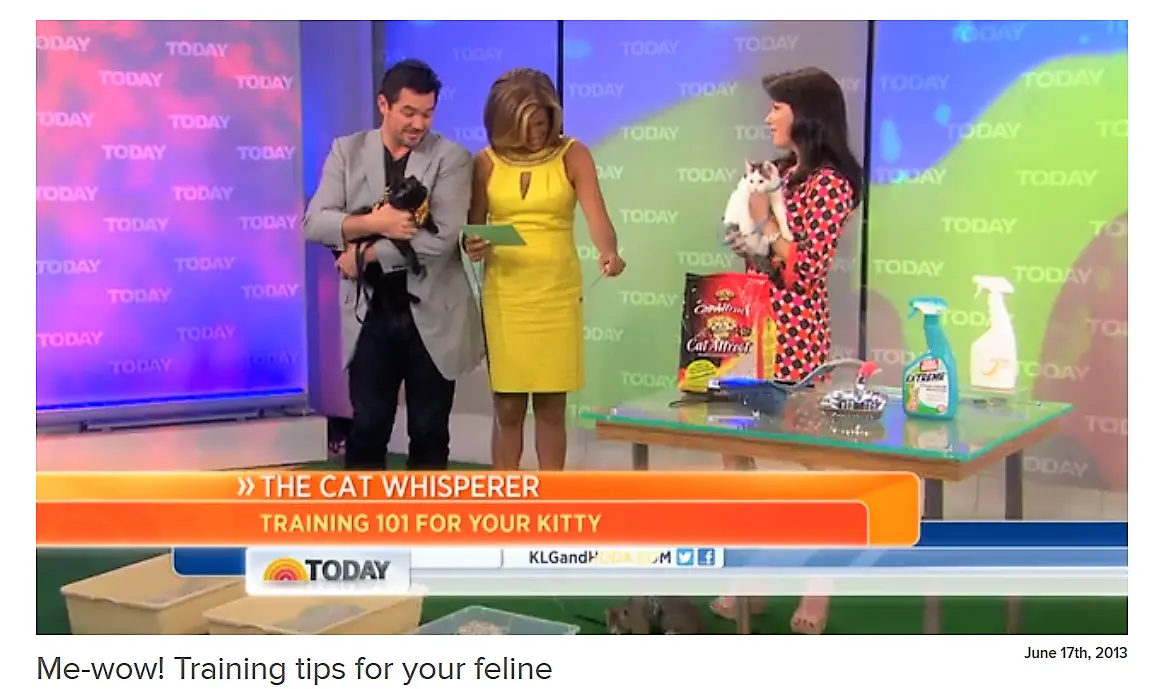 Ready to join the long list of clients whose cat urination issues we've already solved with a virtual appointment?
Zoom Appointment Update: We are scheduling our doctor and cat behaviorist team through October 31st.  Through October 4th receive the study participation reduced fee for urination or defecation appointments. Become a part of Mieshelle's 2-time Academy Award-winning cat behavior show production on Discovery Plus Channel (the most watched cat behavior show in the world with over 1 billion viewers).
Have cat dietary questions? Mieshelle is the newly appointed cat nutrition scientific research and development expert for the largest cat food company and manufacturer in the world.
Unlike some "Cat Counselor" and "Cat Behaviorists", if you schedule with our veterinarian, we may be covered by your pet insurance health plan.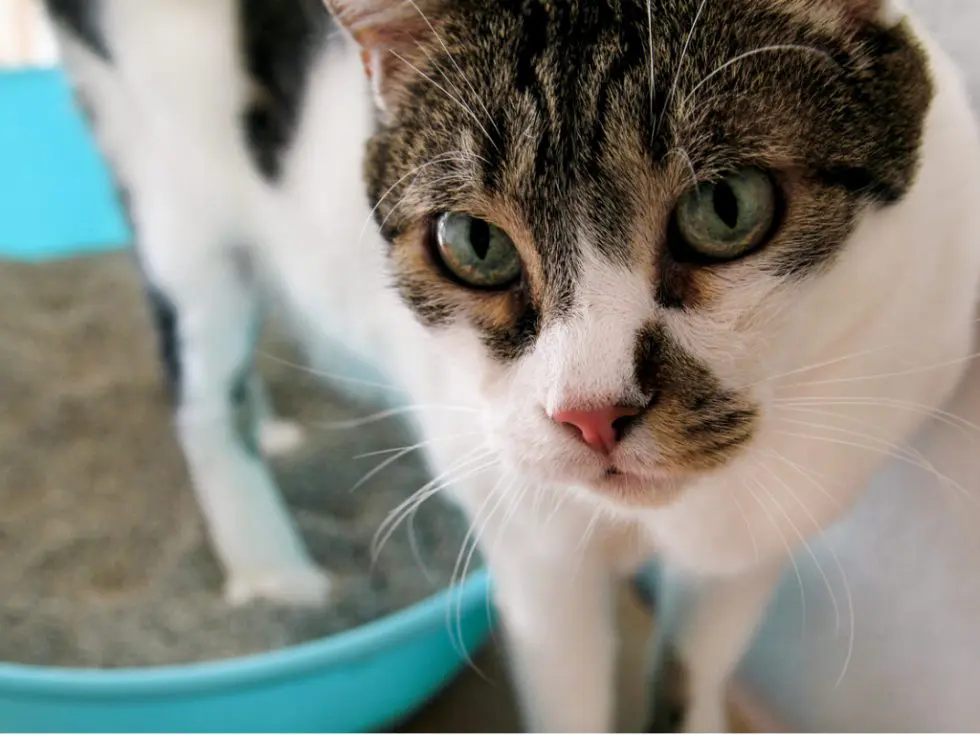 For Over Two Decades Our Experienced and Licensed Doctor & Certified Cat Behaviorist (who studied at Harvard and Oxford University) Have Helped Cat Owners in Over 30 Countries Solve Their Cat's Urination Behavior Issue.
Mieshelle's Cat Behavior Science Book is Text Book Curriculum Used to Certify Other Cat Behaviorists and Cat Counselors You See Today.
The Clinic Has a 95% Success Rate Solving the Most Common Feline Issue – Inappropriate Urination is Solvable
Earning her reputation as a pillar in the cat behavior specialty, Mieshelle has helped thousands of cat owners since 1999 and in over 30 countries solve their cat's urination issue. The first "Cat Behaviorist" in the United States, Mieshelle is the recipient of the Golden Purr Award in recognition of her feline behavior science contribution to cat behavior and her acclaimed New York Times feline behavior science book published in 4 languages (Random House). With two decades of cat urination behavior case study data, the clinic has perfected the urination behavior consultation formula that will lead your cat back to the box every time, long term.
Schedule a Feline Behavior Urination Wellness Program:
3 hours consultation time during the 4 week evaluation program period. This program begins with a one-hour to 90 minutes phone or video consult and then 2 subsequent consultations during the 4 week evaluation program period. During the urination consultation, Mieshelle goes beyond the obvious solutions and gives an intelligent and effective Feline Behavior Science C.A.T.™ Behavior Plan based on your cat feline evolutionary biology to solve your cat's urination issue.
Receive a reduced study participation consult program fee of $325.00 through October 4th. To be eligible to participate in the social facilitation study, your cat(s) must be spayed or neutered.
Have cat dietary questions? Mieshelle is the newly appointed cat nutrition scientific research and development expert for the largest cat food company and manufacturer in the world.
In-home consultations are also conducted and accepted on a case-by-case basis by the veterinarian and cat behaviorist with a different fee schedule.
(Photo: Sand Cat). Mieshelle's Cat Behavior Show is a Two-time Academy Emmy Award-winning Show with Over 1 Billion Viewers. She has been a long time cat expert for National Geographic documentaries and published works on cat behavior and the 37 species of lions, tigers and wildcats including the domestic cat and considered the expert on wildcat hybrid behavior. Watch her on "The Wild Side of Cats" and "Animal's Doing Things" with Howie Mandel.
Gene-encoded Behavior and Why it Matters For Lasting Success for Cat Urination Behavior Issues
Taking into consideration feline evolutionary biology and your cat's gene-encoded behavior (i.e. fixed action patterns, just to name a few) is just one component of the formula that must be a part of a successful behavior plan that has lasting results. Understanding feline learning and memory in a scientific manner is also just as crucial in changing your cat's behavior.
Mieshelle Nagelschneider (center) on The Hallmark Channel's Home & Family Show as Arm & Hammer Cat Litter Spokesperson Speaking on Solving Cat Urination Behavior Issues.
Phone Consult Client Testimonial Update: Darrel P. Tennessee (S'mores kitten at right).
In addition to solving your cat's urination issues:
Our goal is to create a greater awareness of the seriousness of this common behavior problem. On average, cat behavior issues – spraying and inappropriate urination – are more pernicious and destructive than the behavior problems of their canine counterparts. These behavior issues are the number-one reasons millions of cats are surrendered to cat shelters each year and even euthanized.
Using the urination version of our three-part C.A.T.™ Behavior Plan customized for your cat during your feline behavior consultation with the Clinic, we'll show you:
The retraining process to ensure your cat deposits all his urine in the litter box — every time. Most of our clients have success in the first week of following the methods, but long lasting success is achieved by following the full behavior plan.
The un-training process of unwanted behavior which is so crucial for this issue and must be implemented correctly for long lasting 100% success.
How a litter box issue is rarely just a litter box issue. It can begin as a simple issue, but then manifest into several issues rolled into one with many interdependent variables (anyone for a game of chess?). Our cat behaviorist or doctor help you and your cat with an issue that you probably didn't realize had turned into a complex one where cookie cutter advice isn't appropriate.
How your own behavior may be contributing to the unwanted urination problem (learn all about what you didn't know). Savvy cat owners, too.
Learn why litter box issues can lead to urine spraying (and urine spraying can lead to urination issues).
Why adding boxes doesn't usually solve the problem. Learn how your cat's innate instincts directly affect his litter box needs and how you can make changes to meet these needs as part of an all-encompassing behavior plan based on your cat's feline evolutionary biology.
The latest behavior modification techniques to undo habituated behavior in specific urination areas to prevent future urination.
Why social tension between cats is often an instigating factor for litter box issues — and what to do about it (and not just for litter box solutions, but also because your cats deserve to be happy and coexisting peacefully). Sometimes the only sign you have inter-cat tension in your home is litter box issues.
Learn why cats and kittens urinate on the bed, sofas, gym bags, bath mats, sinks, or right in front of you (or on you), and how to solve the issue. Cats and kittens generally perform this behavior for different reasons.
Dublin no longer urinates or urine spray-marks (yes, you can have two issues) after following the behavior program for 30 days.
Phone Client Spraying Testimonial: Friendly, professional, and genuine are only a few words that describe Mieshelle and her staff at The Cat Behavior Clinic! Prior to calling the clinic, I worked a year and a half with my vet to manage my five-year-old cat's (Dublin) UTI's, urine crystals, and aggression/anxiety towards another cat in the family of five cats. Dublin was on a special diet to avoid Struvite crystals in his urine, and was also given Buspar for anxiety. Despite the changes, the additions, and my every creative effort, Dublin continued to spray in numerous areas of the house. I contacted The Cat Behavior Clinic, which I should have done much sooner! Mieshelle is a true cat expert! After my first phone consult, I received a follow up e-mail that reviewed the discussed information and included (behavior plan removed). Her ideas were easy to implement, and although they were simple adjustments, together they led to Dublin's success. After a month of following Mieshelle's suggestions, Dublin's inappropriate marking has stopped! My sanity is beginning to return, and I am so grateful to Mieshelle and her staff! Listen to her advice and follow her tactics. Cindy L. Kane, Pennsylvania
2019 Success with Doolittle who now uses the litter box 100% of the time as of day one of the behavior plan.
Urine Case Study Success Update: "Hello Mieshelle, Just wanted to follow up that Doolittle is now pee free for more than a month. He (behavior advice removed). The other cats (behavior advice removed) as you said no one was (behavior advice removed). From day one they stopped (behavior advice removed)". Angela D. Bradenton, Florida
Bobo is now using the litter box 100% of the time.
Case Study Success Update: "Just checking in about Bobo. We implemented some of the recommended strategies including (behavior strategies removed). He hasn't peed outside the box one time since making these changes! We had an appointment to give him up for adoption this evening and, thankfully, won't have to do so!! Thank you, Amanda B. Chicago, Illinois
Litter box issues can also be the most expensive to deal with. We've known clients whose cats had ruined two homes before they came to us
How, you ask? The urine had gotten onto the floors by the cats urinating there and even on the walls (this is a marking behavior that can actually be caused by litter box territory issues with your multi-cat household), and then the urine cleaner did too, so that the sheet rock was ruined and they had to replace the paint. The urine that dripped down the wall went behind the baseboards, so that they too had to be peeled away and replaced. Urine got under the sub-flooring, so that they had to remove the carpet, pad, and sub-flooring. There was urine in light sockets and in floor heater vents! Of course, after our consultation, none of this ever happened again.
Litter box issues are often more than something about the litter box
Your cat could also have developed a habituated behavior and preference for certain locations. There may also be a territorial time-sharing issue with your multi-cat household which is why your average cat consultant will have no idea how to solve your cat's "litter box" issue. This is where formal education in animal behavior is important, because it's not just about the litter box. A skilled behaviorist knows how to undo habituated and rehearsed behavior in a science-based and humane way. An effective behavior plan is like an orchestra with many pieces working together simultaneously. Mieshelle solves "unfixable" issues by going beyond the obvious facts and offers a creative and intelligent behavior plan for your cat(s).
If only more cat owners knew what the Cat Behavior Clinic teaches its clients every day, far fewer cats would be given up to shelters or even euthanized (currently millions each year). It's a tragedy that so many cat owners are at a loss about how to stop the very preventable behavior of cats urinating outside the litter box.
Testimonial Razberry (Bear-Bear): She is SUPER content and no more pee issues for 9 months now! And now doesn't even get real upset at nail trimmings (that was a whole different problem). Just a HAPPY kitty now! Karen T. New York, NY – Phone Consultation
Testimonial: 2 days after phone consultation – "I (behavior advice removed) and we (behavior advice removed), and used same litter and SUCCESS! No poops or urine on the floor. Thank you for the advice! Martin R. Morristown, New Jersey – Phone Consultation
February Testimonial: After trying literally everything I could find (internet, books, even a local vet behaviorist, which, by the way, knows close to zero about cat behavior), I contacted Mieshelle at The Cat Behavior Clinic. I learned I was not even close to solving this issue as it was more complex than I understood. I'm happy to report we now have our urination issues solve and a normal household once again and I'm forever grateful to Mieshelle and her precious knowledge she has given to us. Best Regards, Sue R. Chicago, Illinois
A litter box issue is rarely just a litter box issue. It can begin as a simple issue, but then manifest into several issues rolled into one with many interdependent variables (anyone for a game of chess?). Let our behaviorist help you and your cat(s) with an issue that you probably didn't realize had turned into a complex one where cookie cutter advice isn't appropriate.
Another Client Testimonial: "To date we have NOT had any incidents of Brutus urinating outside of the litter box. Amazing results. We are thrilled". Lisa D. Burlington, Ontario Canada
Dear Cat Behavior Clinic, Since moving into our new house we have not found ANY urine spots. The cats seem less stressed. In particular Merlin and Amber, the two who were aggressive towards each other, don't swat and hiss at each as much any more. I count one instance in the past two weeks where Amber has swatted or hissed at Merlin. Within the litter box the cat messes are covered up most of the time. Thank you! Chris D. Bothell, Washington
July 20th urine testimonial: "Mieshelle, It's a miracle. From the second I (advice removed) there has not been one drop of urine in my house. This was so worth every penny and I'm not longer spending money on paper towels to clean urine. My life is much better and balanced and the cats are happier too. I'm so happy and thankful. Thank you so very much". Shane L. Magnolia, Texas
October 31st Testimonial: After speaking with Mieshelle, I immediately went out and (advice removed). Alex pooped and urinated 2 more days after (advice removed), then all of a sudden it stopped. It's been 10 days and there is no more urine or poop anywhere outside the box. Last night I went into the kitchen, and I actually found Alex in the litter box, I'm beyond thrilled!!!!! Hoping this behavior continues!!!! Thanks so much Mieshelle, you are the best!!!!! Rosemary C. Brick, New Jersey
May 11th Testimonial: Shmendrick stopped marking outside the box immediately, and all four cats took to the (advice removed) and the (advice removed) immediately. The combination of (advice removed) made the difference. Thanks for all your help. It is such a relief and pleasure to come home in the evening and NOT smell urine! Best Wishes, Steve G. Plymouth, Maine
May 5th – Testimonial Just in: I had my phone consult 3 weeks ago and no urination anywhere since I began the behavior plan for Peaches. So far I have only (advice removed) and (advice removed) and that made all the difference. Thank you! I can't tell you how relieved I am to not clean up urine every night when I get home from work! I'll send another update next week! Best, Stephanie R. New York, NY
Client Testimonial: My cat Ivory has not urinated outside the box for two weeks. Not since I spoke with Mieshelle on 1/23 and made some changes accordingly. Marta L. Portland, Oregon
Testimonial just in: I have used the Cat Behavior Clinic on 2 separate occasions for my cat Doodles. The first time was for an issue where he was eliminating outside of his litter box. Yes, there is nothing worse than cat pee in the house! I was literally at wits end. I had tried everything to stop the problem behavior, but to no avail. I was so frustrated, I even started to think about getting rid of my cat, which now pains me to even consider! After an hour long phone consultation with Mieshelle, I made the suggested changes and 'Voila', no more accidents! It was literally THAT simple. It was almost like she was living in the house with me and knew exactly what to do! The second time I contacted her was when my cat was spraying in the house. This was a much more difficult nut to crack, but by following the advice Mieshelle tailored for my cat and perseverance on my part, I was able to lick the problem. I can't even begin to tell you my relief. I am still in awe of how comprehensive her knowledge is and how professional the consults were. It is comforting to know I always have an option out there when I need help with cat behavior. She has even offered me her advice on how to integrate a new cat into my household! Take it from me, I was considering putting my beloved cat down because of the urination in the house. After my consult, I realized that will never be an option. If you are in my position (at wit's end and desperate), PLEASE give the Cat Behavior Clinic a call! It will give you PEACE OF MIND and make your cat's life more enriched (as well as yours). No need to EVER euthanize another cat for indoor urination/spraying issues again! Thank you Mieshelle and the Cat Behavior Clinic Team! You are TRULY life savers! Jared N. West Haven, Connecticut
Testimonial: We started implementing most of the above the following day after our Skype consultation. The changes in both cats behavior was immediate and so encouraging. The most amazing part is, we were scheduled to go out of the country for 2 weeks starting July 29th- only a few weeks after implementing the changes above- AND we interviewed & hired a new cat sitter- and I am thrilled to report: the cats did GREAT! The sitter came to the house 2 x's a day to feed and play with them…she sent us video, pics & an update with each visit- we were so pleasantly surprised there was not one incident of urination/defecation outside the litter boxes. The cats actually interacted with her (they have never done that with anyone other than us before) and they seemed in a really good, stable, happy mood while we were gone. When we returned home last week, they were happy to see us, and welcomed us home (in the past they would ignore us for a few days, clearly not happy with the fact we were away, so this was such a nice change). There have been no urine or stool incidents, I am happy to say! 🙂 We attribute their behavior changes to the techniques we implemented at your suggestion, and are so happy with the results. We are enjoying Kashi & Buca, and we believe they are finally comfortable and happy in their home- and with each other! (we actually caught them sleeping and playing together!) Stacy D. Lighthouse Point, Florida
Cats urinating outside the litter box is the most common and preventable behavior problem, but can also be one of the most complex
We have 350 testimonials on our clinic site. See cat behavior testimonials
"We have 3 cats. My female cat Violet had been urinating all over my home everyday for 9 years. I had my furniture, even my bed, covered in plastic. Mieshelle asked me a lot of questions and told me why my cat was urinating everywhere (it was my other cat's fault!) and also how to deal with the problem. I can't believe she is using the litter box again after all these years! I no longer have everything covered in plastic! I only regret not getting help from Mieshelle sooner! My cat is also more confident and content around the other two cats."– Vicki Vancouver, WA – Phone Consultation

"Woohoo! My cat peed in her box immediately after I (behavior advice removed) and she hasn't peed elsewhere since. I'm shocked – out of all the Google searches and people I asked about litterbox issues, no one mentioned (behavior advice removed), which I obviously would have tried if I'd known about it before. Thanks so much for everything!"–Eliza R., Pasadena, CA Phone Consultation "Our vet enjoyed working with you and the entire staff is so thankful you helped us with our cat's issues. I think they were really getting tired of seeing this cat week after week! If only this knowledge was more readily available to cat owners, there would be less of them in the shelters! I will follow-up with you after our vacation. Thank you!!" S. Berger, New York, NY Phone Consultation "Chardonnay is no longer urinating on our couch and bed. It has been 3 weeks and no accidents! Thanks you! I really think it was the (behavior advice removed). Our vet wants to take you out to lunch! I think they're just happy not to see us in the clinic anymore for this urinating issue! Your knowledge has saved our household!"– Marci and Sigmund W., New York, NY
Get advice that will last you the rest of your cat-owning life. Book your cat behavior consultation today.
What People Are Saying
"Lexi" & Michelle Kraft
Thank you so much. You're a miracle worker. Lexi is as happy as a kitten and has not had one accident. I did everything you told me to do and the problem was fixed! Our whole family cheered and you can just add that to your website of happy customers. Y our fee should triple for the happiness of understanding how Lexi 'works' and what makes her happy. Our family, including Le xi sighed a huge relief this week, thanks to you. Makes me think that there are a lot of kitties on Prozac and taken to the humane society for no reason... and she wasn't sick, we just didn't understand her. Thank you for everything.
Dr. Jordan Carlton Schaul, PhD
The reason people are so mesmerized by house cats is because they are truly miniature versions of lions, tigers, and leopards. As The Cat Whisper er, Mieshelle explains in an unprecedented and a most accessible way, the behavior of the house cat, with her unique insight into the often misunderstood companion animal that is as wild as we have become civilized.
Kelsey G.
We have seen (and smelled) a difference already! We (behavior plan removed) and it's AMAZING! (Behavior plan removed) like nothing I've ever used before! Mario has been pacing a LOT less! and I've seen him do his "twitchy tail" but then checked and there was no spray. He still cries at the windows but the (behavior plan removed) seems to be helping for sure! All in all, we've seen improvement and that's a miracle with all the change that's been going on in our home preparing for our move. We're continuing all the (behavior plan removed). Our little Ginger cat seems to have stopped going potty on the couch as well, she really likes the (behavior plan removed). Kelsey G.
Janice V.
Cleo is doing excellently and we haven't had one instance (litter box issues) for over a month now so we are quite happy. We will probably keep the (behavior plan removed) and this will be the new permanent. Cleo seems happy and I would like to thank you for the help. Regards, Janice
J. Tangedal
We (behavior plan removed) Greta (behavior plan removed). She would generally poop in the litter box within 1/2 hour, then we would (behavior plan removed). She became so used to it that she would start meowing when she was done pooping. 🙂 After about 3 weeks, we thought we would test her. She has passed with flying colors! She has not pooped on the carpet! Yay! 🙂 Thank you!
Holly G.
Snowflake has not pooped outside of the box since I (behavior plan removed) in the house. I feel like I have seen snowflake more on the main floor during the day over the last couple weeks. I have seen the two cats together on more than one occasion or in the same room which seldom happened before the (behavior plan removed). Thank you!
Atlas Z.
All is well here! So far, no accidents 🙂 I will give you a report of the log at the end of the week. Thank you!
K. Baker
My cat Guinevere has not urinated on the bed since our consultation on April 1st. We (behavior plan removed). The (behavior plan removed) is a big hit with all 3 cats. They can't seem to get enough of it and (behavior plan removed). They all seem to be satisfied with (behavior plan removed).
T. Brandon
Ever since the day of our first call, Dax has only used the cat box, so I guess it is 100% better now. We hadn't even changed anything yet. Maybe he just knew... 😉 Since Thursday, March 19, Dax has not urinated anywhere but the litter box! (Behavior plan removed) seems to have made all the difference! We (behavior plan removed) where Dax had repeatedly urinated. A few days ago, we also (behavior plan removed). T. Brandon
A. McKown
I am happy to share that there has been 100% reduction now in unwanted behaviour. I have (behavior plan removed) recommended by Mieshelle. I am not sure yet if he (behavior plan removed). We have also made a lot of progress with (behavior plan removed). Murray has decided he likes the play time a lot now 🙂 A. McKown