25 Years in Practice The Cat Behavior Clinic is the First Cats-exclusively Behavior Practice in Washington
The Clinic Specializes in the Treatment and Scientific Research of Cat Behavior Issues
Licensed and Certified, Harvard and Oxford-trained Cat Behaviorist and Veterinarian Team
Solving Your Cat Behavior Issues by Scientifically Observing and Analyzing Feline Gene-encoded Behavior From a Behavioral Cognitive, Ethological, and Feline Evolutionary Point of View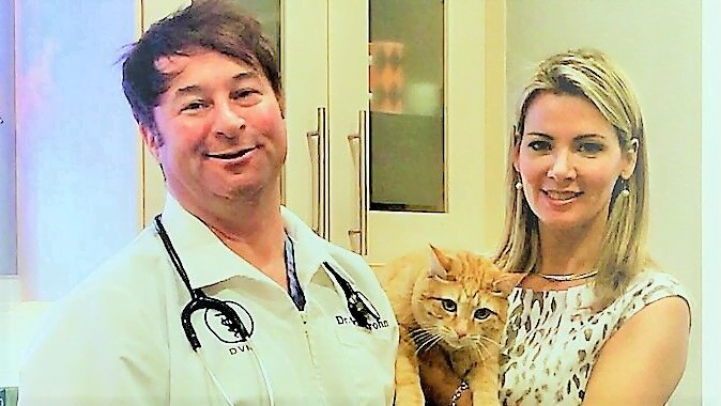 Recipient of Several Honors Including the People in the Field of Animal Behavior Seattle Business Award 2020. A Pioneer of the "Cat Behaviorist" Specialty, Mieshelle wrote the cat behavior science text book required curriculum to certify other cat behaviorists and veterinarians you see today. Oxford and Harvard University Studies Information Here. Read over 350 client testimonials here. Our Clinic Has More Cat Owners Purring Than Anyone Since 1999.
Award-winning Cat-exclusively Behavior Clinic with Over 25 Years in Practice Providing Comprehensive Cat Behavior Care Based on Your Cat's Feline Evolutionary Biology
Zoom Appointment Update: We are scheduling our doctor and cat behaviorist team through September 30th.  Through September 24th receive the study participation reduced fee for urination or defecation appointments. Become a part of Mieshelle's 2-time Academy Award-winning cat behavior show production on Discovery Plus Channel (the most watched cat behavior show in the world with over 1 billion viewers).
To schedule, please call the clinic at 503-267-8888 or click here to schedule.
In-home, Phone, or Zoom Cat Behavior Appointments: to learn more about the process or to schedule an in-home or video consultation, please call the clinic at 503-267-8888. Appointments can be scheduled online here.
Read about our outstanding clinic success rate for common cat behavior issues (cat behavior issues are solvable with the right help).
We specialize in aggression, urination, and defecation cat behavior issues.  Urination or defecation appointments receive the study discount by participating in our feline study through September 24th. You will be helping cats just like yours that are experiencing litter box issues.
Have cat dietary questions? Mieshelle is also the cat nutrition research and development expert for the largest cat food company in the world.
Contact the clinic to schedule or visit online here.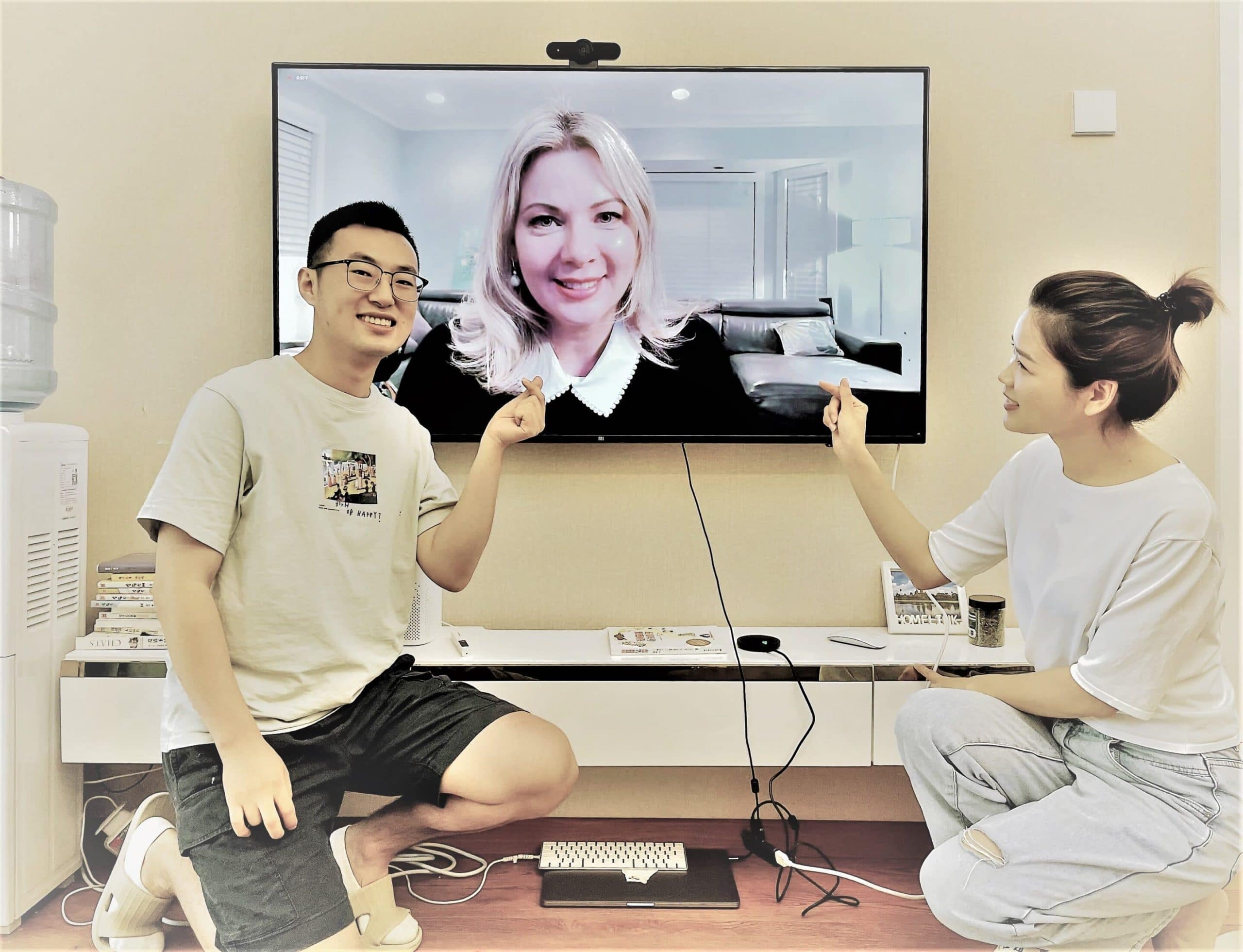 Photo: actual Zoom Consultation from Seattle, Washington to Beijing, China 2021. Cat Urination and Defecation Issues are the Number One Issue that Cat Owners Experience the Most. Luckily, Most Cat Behavior Issues are Solvable (even long-term ones).
A partial list of problematic cat behavior issues we routinely see
We specialize in all urination and defecation behavioral issues in cats.
Spraying with urine is a destructive marking behaviors such as (urine) and middening (feces).
New cat introductions or re-introductions/integrations.
Aggressive cat behavior with the owner, other cats, or people within the household, including cat biting behavior.
Clawing and other destructive behaviors — stop your cat from scratching the furniture.
Yowling, excessive vocalization, and compulsive behaviors.
Feral cats, fearful cats, anxiety behavior, stereo-typical stress-related behaviors like overgrooming.
Poor appetite, training your cat to take medications and allow nail trimming.
Have cat dietary questions? Mieshelle is the cat nutrition research and development expert for the largest cat food company in the world.
Other so-called "bad cat behaviors" which are instinctual or learned behaviors.
Photo: founder of the Seattle Award-winning Cat Behavior Practice, The Cat Behavior Clinic, Mieshelle is the Author of the First Scholarly-cited Cat Behavior Science Book for Cat Owners (Random House Publishing). Her New Cat Behavior Show on Discovery Channel Has Over 1 Billion Viewers Worldwide.
A Pioneer of the Cat Behaviorist Specialty, Mieshelle on the Today Show (2010).
Comprehensive Cat Behavior Help Rooted in Animal Psychology
The clinic goes beyond the obvious facts about cat behavior and offers proven solutions to change your cat's behavior long term. View 350 solved case studies and testimonials and our outstanding clinic success rate. For over two decades, certified cat behaviorist and New York Times acclaimed international feline science author Mieshelle Nagelschneider and our veterinarian have helped thousands of cat owners in over 30 countries solve cat behavior issues from the simple to the most complex. Mieshelle studied animal behavior at Oxford University, Harvard University, and The Royal School for Veterinary Studies – The University of Edinburgh. You can read about her experience at Harvard University here that has enabled her to help cat owners think more scientifically about their cat's behavior. Help your cat with a simple behavior issue or one that has turned into something more complex. Applying the sciences of wild felid genetics, animal psychology, feline learning and memory and biology is important to effectively correct a cat's behavior long term.
Seattle 2021 Testimonial From Dr. Midori Higashi
I consulted Mieshelle for my 4 month old kitten Bun Bun. When we got her, it was like she had never used a litter box. She was peeing/pooping on the carpet, on the bed, on the bathroom floor…I was having to do laundry every single day. I was at my wits end. I did extensive research to find a solution…cat forums, books, youtube videos, etc. I tried everything…different boxes, litter types, etc. She was traumatized every time I would attempt to even place her in the box. Within one week of consulting with Mieshelle, she had fixed our problems. Bun Bun hasn't had a problem in over 6 weeks. She also helped us integrate a second kitty. Her tips/tricks helped the kitties love each other before they even met. I 100% recommend The Cat Behavior Clinic! Dr. Midori Higashi – Seattle, Washington
Helping Washington Cat Owners Think Scientifically About Their Cats' Behavior Issues. View 350 Testimonials and Solved Case Studies
To change a cat's behavior, it's important to work with an experienced cat behaviorist, but most importantly, one with formal study in animal behavior that can apply the sciences of genetics, animal psychology, biology, and physiology to effectively correct a cat's behavior. An effective behavior plan to correct a cat's behavior long term must be grounded in feline evolutionary biology and gene-encoded behavior.
The Most Popular Pet is Also the Most Underserved
Even though cats are now the most popular companion animal, they are still incredibly underserved and especially where behavior help is concerned which puts the cat at a greater risk. Mieshelle is the founder of the first cat-only behavior practice in the United States and one of three notable cat behaviorists in the United States, and is world-renowned for her global leadership in cat behavior education and crossing the conventional boundaries of the cat behaviorist specialty. She is a long time cat expert and researcher for National Geographic cat documentaries and published works specifically on the 37 species of tigers and wildcats including domestic cats and an expert on wildcat hybrid behavior. You can view her work on: Howie Mandel's Animals Doing Things for National Geographic, The Wild Side of Cats on Nat Geo Wild, The Today Show, Hallmark Channel, Animal Planet, the New York Times, MTV, NBC Dateline, New York Post (just to name a few).
Is Your Cat A Good Candidate for Behavior Help?
Probably, but if after reviewing your cat's behavior history (the Feline Behavior History form you will be completing) it's determined that a behavior consultation would not be helpful or appropriate, the clinic will conduct a consultation at no charge.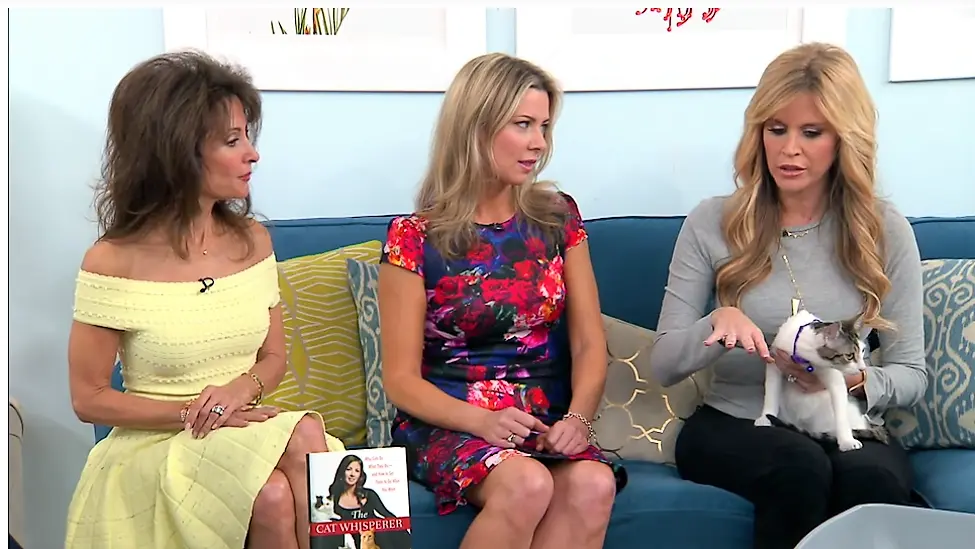 Zoom Feline Behavior Consultation Appointments
Mieshelle Nagelschneider and our doctor perform in-person, video, or phone consultations in the Seattle area or anywhere in the State of Washington. All in-person consultations are scheduled in advance for the Seattle and surrounding area locations. Mieshelle and the veterinarians will travel to the cat's location to assess the cat's environment and observe the natural behavior exhibited in the home. Many cat owners schedule video calls for urination defecation, aggression, and vocalization issues because this enables them to easily have follow-up calls at no charge after their initial behavior plan consultation.
We Serve Cat Owners in the Washington Cities of Vancouver, Olympia, Seattle, Kirkland, Spokane, Tacoma, Everett, Renton, Mercer Island, Kent, Bellevue and their Surrounding Areas
Please feel free to call the clinic at 503-267-8888 to schedule or click "Book A Consultation" above to schedule online. We also recommend visiting our main Cat Behaviorist home page.
Think You've Tried Everything to Help Your Cat?
We're Pretty Sure You Haven't
World-renowned Oxford-trained Cat Behaviorist Mieshelle Nagelschneider, The Cat Whisperer™️
Schedule an Appointment